Bringing Children to RSE
Children of all ages can attend or stream events at Ramtha's school. There are several categories for children and different policies for each age group.
*Please check the eligibility requirements for each event.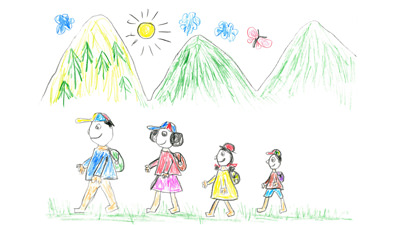 ---
Children 6 through 19 must complete a Class 101 Event to qualify for eligible RSE Events. A parent or legal guardian must sign and have notarized the form entitled "Parental Authority for a Minor to Attend RSE" prior to their child's first event at the Main Campus in Yelm, WA. This form must be renewed annually. The parent or guardian must be present at registration for the child's first event. Please also bring a copy of the child's birth certificate and parent's driver's license or passport that clearly shows the relationship to the child. We have a Notary Public on campus.
Parents may bring children 5 and under to most events at no charge but the child must attend the event with at least one parent. Once a child reaches age 6, the child must complete a Class 101 event to qualify for eligible RSE Events.
RSE does not provide childcare. You are your child's primary teacher. You cannot leave your child in the care of any staff member. It is up to you to determine what is best for your child with regard to activities that are offered for children to participate in at an event. During events and while on RSE campus, you are responsible for your children's actions at all times.
The Pink Team — comprised of current students, parents, and teachers — facilitates activities for children during certain portions of events. Children 6 through 12 are expected to participate in Ramtha's disciplines. Children 5 and under may participate as best they can, under parental supervision. At no time during the children's activities or disciplines may a child be left unattended. This means you cannot allow your child to play alone or with other children unsupervised while you join the main group. The price discounts for children are as follows:
Children 5 and under may attend with their parent at no cost.
Children 6 through 19 receive a 50% discount on most events, please check the pricing information under the Cost & Discounts section of the event details page. To receive the discount we must have proof of age verification to update the childs student record.
Full-time college students with a letter on file receive a 50% discount on most events at the Yelm campus. Please check the information for each event. This discount is not available at world venues.
Children who want to stream a live or on-demand event must have an online account which is synced to their RSE student record to receive the online discount.
---
Interested in becoming a Student?
For More Information Click Here