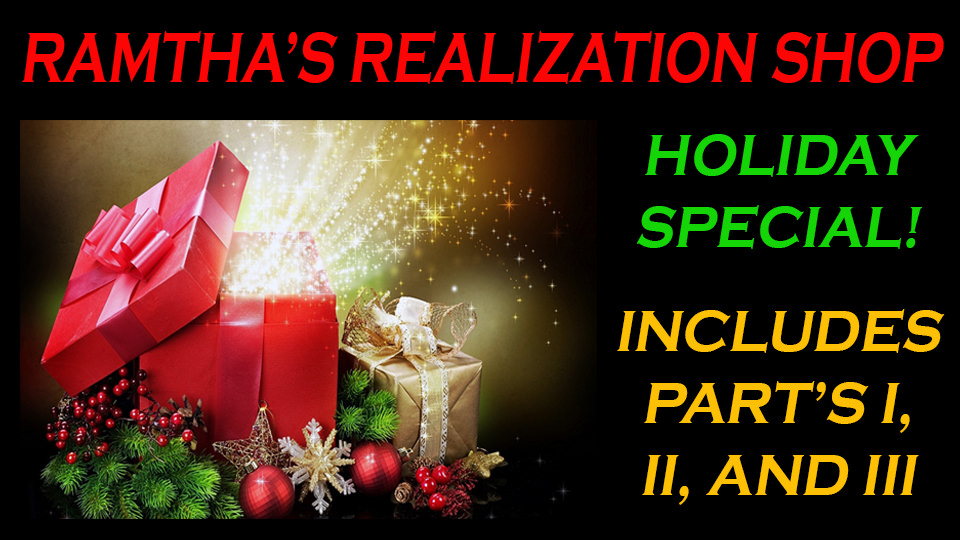 RAMTHA'S REALIZATION SHOP
HOLIDAY SPECIAL PACKAGE
PRICE: You must sign-in to your
account for pricing information
NEW ELIGIBILITY REQUIREMENTS
Starting Jan 1, 2017, non-current students MUST have completed a Class 101 event since 2014 to qualify for all NEW events open to non-current students.

This new eligibility requirement does not apply to events that are "Open To The Public" or On-Demand streams that were available online prior to 2017.
RAMTHA'S REALIZATION SHOP
HOLIDAY SPECIAL PACKAGE
---
The Realization Shop "Holiday Special" package is available for purchase until January 2, 2017.
This special package has a 20% discount over the individual price for each part AND includes a BONUS audio teaching by JZ from the March 2013 event that is part of this series.
In total there are 10 teachings included in this special package.
Information about the individual parts is available using the links below.
For information on the Realization Shop Part I, Click Here.
For information on the Realization Shop Part II, Click Here.
For information on the Realization Shop Part III, Click Here.
This event is available to all
Current and Non-Current* Students
---
The Realization Shop teachings were delivered by Ramtha in 2013 starting with the first event held January 18 – 20, 2013. Following the first event, there was an evening event on February 8, 2013 to progress the teachings from the January event.
The next event was March 22 - 24, 2013, and this series of teachings concluded with the Italy Realization Shop event August 15 - 18, 2013.
There are 9 teachings in total for this series PLUS the Bonus teaching by JZ from the March event.
*(Non-current students who have completed a Beginning Retreat, or Home Study Program since 1988 are eligible to view the Stream).
PURCHASE TERMS:
Access to the on-demand stream is available for 180 days from the date of purchase. After access has expired you will have the option to extend your access for an additional 180 days for $120.00.
---
ON-DEMAND REFUNDS:
Refund requests for on-demand streams must be submitted within 24 hours of purchasing. Refund requests may not be honored after 24 hours or if you accessed the online content.